We had a bunch of friends in town and failed to lose any of them while touring DC, so we decided to try New York. Fortunately, we didn't lose anyone there, but we did see the Statue of Liberty.
The security screening before boarding the boat to Liberty Island causes a huge line – the whole boarding process probably took a half hour, even though we had reserved tickets. I felt pretty sorry for the folks with non-reserved tickets.
The best view of the statue was from the boat as we passed in front of it on our way to the dock on the island and on the way back to Battery Park via Ellis Island.
Were they really having a problem with people on the boat feeding the birds?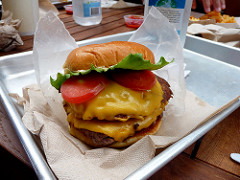 This ShackBurger from the Shake Shack was delicious, if a bit salty. Oddly, they served Fiji bottled water there – seems odd in the city with the best tap water in the country.